The regime is aggressively implementing austerity measures across the board, most recently with further reductions to subsidies on basic commodities and tightening of eligibility requirements for the smart card rationing system. As a result, fear is mounting among Syrians on how they will make ends meet with further cuts when they are already struggling. A major hike in fuel prices has increased costs across a number of sectors, but the most concerning policy shift regards bread subsidies, the staple food upon which the vast majority of families depend for survival. The price for a bag of subsidized bread will leap to 1,200 Syrian pounds after the new year, an exponential rise from its current price of 200 pounds. Moreover, regime policy missteps, capital flight among agricultural financers and a historic drought have combined to raise the specter of major flour shortages and famine in the coming year. The sudden closure of more than half the bakeries in Daraa during the last week of November and skyrocketing bread prices at private bakeries, may offer an indication of what lies ahead.    
This file monitors and analyses the economic crisis in Syria on a monthly basis.
Economic Indicators
Exchange rate: Despite months of mounting economic hardship across a range of sectors, the Syrian pound (SYP) held relatively steady at a rate of 3,500 SYP to the dollar for another month, building on the currency's longest stretch of stability since the beginning of 2020.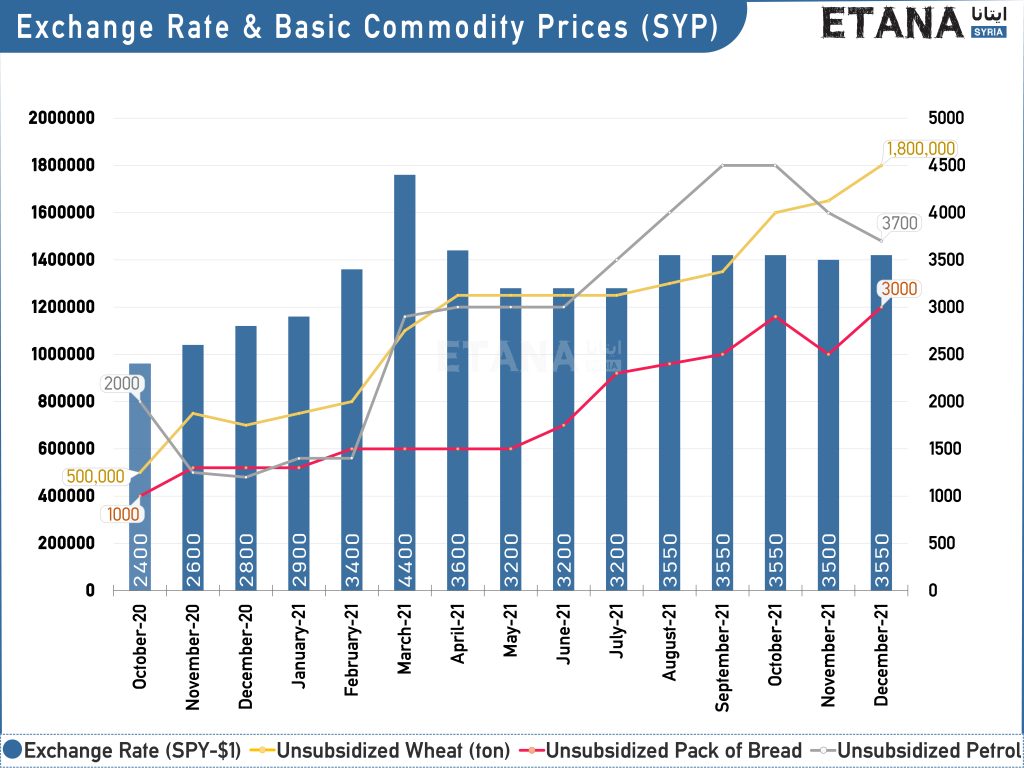 Wheat:
– Harvest season: The traditional harvest season for wheat has drawn to a close, with farmers and other actors in the sector fearing a disastrous harvest next year. A historic drought considered the worst in a quarter century is combining with other policy-induced factors, creating strong disincentives for farmers to work.
– Regime policies: The price of fertilizers has leapt about 400%, which combined with other shifts has more than tripled the costs associated with wheat sowing over the past month. While the regime subsidizes seeds and key aspects of the sector, farmers are obliged to sell their harvests back to the state at fixed prices. With these shifts however, wheat farmers are in the position of losing money on the crops they plant and sell.
Bread crisis:
– Bakery closures: In the last week of November, Daraa plunged into a bread crisis as shortages of state provisioned flour forced more than half the province's bakeries to close. It has been six months since southern Syria witnessed flour shortages on this scale. Prices in private bakeries have also skyrocketed, reaching over 3,000 SYP for one bag of bread.
– Policy failures: The shortages are linked to a larger failure of the regime's agriculture policy, which has left the official storehouses of flour empty as the regime has struggled to procure wheat at subsidized prices.
Fuel:
– Price increases: In line with other austerity moves announced this month, the regime will raise the price of subsidized fuel to 1,000 SYP per liter, and the price of a gas cylinder to 9,700 SYP.
– Black market: Despite cuts to subsidies, petrol remains available on the black market, even as the demand grows heading into the winter months. This fuel is mostly smuggled from Lebanon and north-east Syria. Black market petrol and diesel are sold outside of cylinders at a current price of about 4,500 SYP and 3,500 SYP per liter, respectively, and these prices have remained relatively steady.
Regime Economic Mitigation Measures
Austerity measures:
– Smart card cuts: The Ministry of Internal Trade announced the beginning of a major drawdown of the smart card system, drastically reducing the eligible population and removing support for several groups, estimated to include between 500,000 and 800,000 Syrians. The smart card rationing system provides critical social support to Syrian families for basic food and fuel items. Among those removed from the eligibility pool are doctors and lawyers, several categories of merchants, owners of commercial, industrial and tourist establishments, people owning multiple properties, and drivers owning cars manufactured after the year 2011.
– Bread cuts: For most Syrians, the most alarming aspect of the smartcard overhaul is the reduction of support for bread purchases. Subsidized bread after the new year will cost 1,200 SYP per bag, an exponential rise from 200 SYP just five months ago. Fears loom that the regime is setting the stage to lift subsidies altogether on the country's most critical staple food item.
– Fuel cuts: The regime is beginning a major renewed push to liberalize fuel prices, a move that is certain to increase costs of consumer goods across the board. This is also poised to happen without any relative increase in public or private sector wages, laying the ground for a significant decline in purchasing power for most Syrians in the coming months.
Industry:
– Telecommunications: As the Syrian currency has plummeted in value over the course of the past year, telecom fees have remained constant in Syrian pounds, leading to mounting losses for the industry and a significant deterioration of services. Correcting for this shift, and working to encourage the entry of a new Iranian telecom company, the regime announced sweeping price hikes.
Regime Allies & Neighboring Countries
Jordan:
– Cross-border trade: Since the reopening of the Nassib border, there have only been limited upticks in cross-border trade to date. Exports to Jordan are dominated by the cosmetics industry, while most of the cars that enter Syria are loaded with alternative energy equipment, such as solar panels, batteries, and voltage lifters, in addition to granules that are used in the manufacture of plastics. The pronounced turn towards alternative energy in Syria is a response to prolonged grid failures and insecure energy supplies.
UAE:
– Resumption of flights: Cham Wings has resumed its flights to Abu Dhabi as they were in 2011. Last week (26.11), the first flight took off from Damascus Airport to Abu Dhabi, after UAE authorities accepted the company's request.
Economic Conditions
Daraa:
– Institutional paralysis: Public sector institutions in Daraa are facing massive staffing shortages, as they struggle to hire employees at an average monthly salary of $24 US dollars, less than the cost for many employees' commuting costs.
– Community aid: Civil society and community efforts have increasingly stepped in to fulfill the basic functions of the state, including maintenance of electricity and water systems, restoring schools, and financing a number of municipal council activities. The population is also dependent on the World Food Program for survival, which distributed nearly 100,000 food baskets to the population of south-west Syria.
Turkish-controlled regions:
– Rapid inflation: In Euphrates Shield and Olive Branch areas, a rapid depreciation of the Turkish lira has resulted in spiraling economic and social instability over recent weeks. Prices for many goods have shot up by 25-40%, triggering a wave of shop closures and shortages of medicine along with other essential commodities.
-Social effects: Amid rising unemployment, there has been a marked increase in begging among children, as many have dropped out of school to aid their families. There is evidence that a growing portion of the population is struggling to feed itself, and explosive protests have become a regular phenomenon across the region.
Northeast: The cost of living in SDF-controlled areas remains persistently lower than in regime-held Syria. As the main wheat-producing region in Syria, the Self Administration has also managed to procure sufficient stores of flour at much more competitive prices than the regime.