Iran and the US-led International Coalition engaged in a dangerous tit-for-tat cycle of retaliatory attacks in March, resulting in the deaths of one American military contractor and at least 11 fighters affiliated with Iran's Islamic Revolutionary Guard Corps (IRGC). Iranian forces targeted coalition bases in Deir Ezzor and eastern Hasakeh and the Conoco gas plant, also in Deir Ezzor, with missile and suicide drone attacks, prompting retaliatory strikes by US forces against IRGC positions, including munitions depots.
Areas of Syria's central Badia desert bordering Aleppo, Hama, Homs, and Raqqa provinces are quickly emerging as new epicentres of violence. Unarmed civilians foraging for truffles–one of the few remaining lucrative industries still available to rural communities in Syria's interior–have faced a brutal series of massacres and kidnappings. With the spring season opening, truffle hunters are vulnerable to attacks by multiple armed groups competing for control of the trade, chief among them ISIS. Over the past month, at least 25 civilians have been killed and many others injured, while an additional 88 were confirmed abducted. In addition to ISIS, both regime forces and Iranian-backed militias are responsible for opening fire on groups of truffle hunters.
Civilians across the region continue to face other rights abuses and humanitarian challenges. The Syrian Democratic Forces (SDF) continue to subject communities across the north-east to intense forced conscription campaigns; meanwhile, hundreds of civilians fell ill as a result of river-borne toxins and diseases found along the Euphrates River.
Attached Map: Recent Developments in North-East Syria – April 2023
(For a high-resolution version of this map, please use the form at the bottom of the page)
Iran-Coalition Retaliatory Strikes
Tensions ignited between International Coalition forces and Iranian militias in recent weeks, resulting in a deadly tit-for-tat cycle of retaliatory attacks resulting in the deaths of one American contractor and at least 11 individuals associated with Iran's Islamic Revolutionary Guard Corps (IRGC). Between 15th and 25th March, Iranian militias first targeted coalition sites near Deir Ezzor, Hasakah, and the Conoco gas plant. These attacks sparked retaliatory strikes by coalition forces against IRGC points and depots across Deir Ezzor province and the al-Bukamal desert, prompting Iranian militias based there to relocate closer to Palmyra.
Despite the escalation, the IRGC and Iranian-backed militias redeployed a number of affiliated fighters from Iraq into the north-east during March. The IRGC also inaugurated a new headquarters near Deir Ezzor. Lebanese Hezbollah, too, returned to its regular positions and checkpoints after withdrawing from areas around al-Bukamal in early February. A rising number of IRGC-affiliated troops have also been reappearing around their usual positions in the area.
Military Developments & Abuses Against Civilian
Despite the hostile exchanges between two major geopolitical actors in the north-east, it is increasingly civilians who bear the brunt of violence in the region. Amid rising bloodshed, lawlessness, and resource competition in Syria's desert interior, truffle hunters in the Badia desert region especially are often the targets of attacks and harassment by a number of multiple armed actors, all of whom compete for control of the trade. This past month alone, at least 25 civilians were killed and many others injured across the north-east. Another 88 were confirmed abducted.
The primary instigators of violence against truffle hunters are ISIS and affiliate cells, Iranian-backed groups, and regime forces. A tally of violations demonstrates the range of actors engaged in abuses against civilians working in the lucrative desert trade: Iraqi Hezbollah killed 7 civilians, ISIS killed 15 others in the eastern Hama desert, and Iran-backed militias kidnapped 12 others in separate incidents. Regime forces also fired at a group of truffle hunters near Raqqa.
Regime forces and Iranian-backed militias, too, are responsible for attacking civilians: in early March, armed men from an Iranian-backed Afghan Shia militia kidnapped 8 shepherds and 2 children in the Badia.
Outside of drug smuggling, truffle-hunting is one of the few profitable industries left for rural communities in north-east Syria. Overall, areas of the Badia desert nominally governed by Iran-backed groups are witnessing rises in crime, kidnappings and theft, along with other violations targeting local civilian populations.
ISIS is also increasingly focusing its attacks on civilians in north-east communities, while the overall number of ISIS attacks on Syrian Democratic Forces (SDF) and regime targets has decreased when compared with previous months. The extremist group was responsible for the death of 9 regime combatants over the course of 7 armed attacks and IED explosions across Raqqa and Deir Ezzor.
Additionally, ISIS members and affiliate groups have targeted individuals in what appear to be financially-motivated attacks. Members attacked the homes of several oil well contractors near Deir Ezzor, while gunmen with alleged ISIS affiliation attacked an individual for refusing to pay an Islamic zakat tax. ISIS cells in Deir Ezzor also kidnapped 3 young men, for unknown reasons.
In addition to physical harm, civilians are under threat by the SDF's aggressive forced recruitment campaign. Over the past month, the SDF detained at least 12 people on terrorism charges, 3 on charges related to smuggling, and 2 for engaging in political protest. Dozens of young men were detained in Hasakah and Taqba for forced conscription, but when the SDF tried to do the same elsewhere in the north-east, local residents expelled their military patrol from the area.
Meanwhile, in recognition of the Kurdish Nawruz New Year celebrations, the SDF released 19 prisoners being held for non-violent offenses.
Political & Humanitarian Developments
This month, civilians across Deir Ezzor and Hasakah provinces held demonstrations marking the 12th anniversary of the 2011 Syrian uprising.
At the same time, communities living along the Euphrates River are falling ill due to river-borne toxins and diseases, mostly caused by low water levels and growing sewage pollution. So far, 370 individuals have fallen ill.
The SDF launched 4 raids across al-Hol camp, arresting at least 5 children. Poor conditions in the camp continue to plague its residents, with one recent child death linked to hypothermia. At al-Roj Camp, the Self Administration released 2 women affiliated with ISIS as well as 3 children to a Sudanese government delegation. Authorities in the north-east also handed over 49 Russian women and children from both al-Hol and al-Roj camps to a Russian delegation.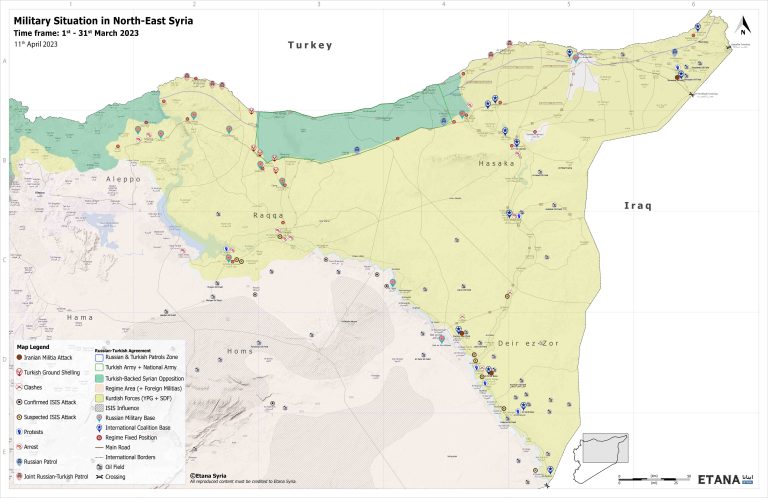 Download the map in high resolution
By agreeing to these Terms, you agree to receive email from us. The aim of our newsletter service is to keep our visitors updated with ETANA's latest content as it releases. The subscription to our newsletter service is not mandatory and can be cancelled anytime.

1. Frequency
Newsletter subscribers will receive a maximum of two emails each month.

2. Limited Liability
We reserve the sole right to either modify or discontinue the newsletter at any time and with or without notice. We will not be liable to you or any third party should we exercise such right. Any new features that augment or enhance the then-current services on this site shall also be subject to these Terms of Use.

We reserve the sole right to unsubscribe users / visitors from or newsletter service, without notice. This action will be taken if we discover a subscriber to have registered under a false email address.

3. Double opt-in
We require all subscribers to confirm their email address upon registration. You will therefor receive a message with a link you will need to use in order to confirm your email address and newsletter subscription.

4. Privacy policy
ETANA will not reproduce, sell, or publish your personal date to any third party. You' may change your subscription settings, or delete it altogether, at any time.


I agree with the
Terms & Conditions