Economic crisis and discontent with Self Administration policies continues to foment anger among populations across the north-east, with demonstrations erupting in nearly half a dozen towns and cities in recent weeks. In another sign of the deepening financial crisis engulfing the region, the Self Administration moved to set the price of wheat and barley in dollars, the first time that authorities have set official commodity prices in foreign currency instead of Syrian pounds. Drug smuggling remains a mainstay of the local economy, with drug-related apprehensions rising markedly every month this year and the Syrian Democratic Forces conducting increasingly high-profile operations against smuggling rings and their networks on the ground.
Attached Map: Military Situation in North-East Syria
(For a high-resolution version of this map, please use the form at the bottom of the page)
Russian & Regime Activity
Attacks and other clandestine ISIS activities have continued at high levels across north-east Syria, with eight armed attacks and one IED blast targeting the Syrian Democratic Forces (SDF) across Raqqa, Deir Ezzor and Al-Hasakah in recent weeks. At least 10 members of the SDF were killed in these attacks, and scores of others severely wounded. Ambushes against pro-regime forces have also continued to mount as extremists consolidate their presence across the central Badia desert. While the official death toll stands at 18, the actual number is suspected to be much higher. Iran's Islamic Revolutionary Guard Corps (IRGC) and Iranian-backed militias have also increasingly found themselves the targets of ISIS ambushes over the past month.
Iranian & Pro-Regime Activity
In recent weeks, there have been significant redeployments by IRGC forces and Iranian-backed militias towards military sites around Deir Ezzor. Iranian militias have relinquished control of military checkpoints located in the Syrian desert, transferring authority to regime security bodies. As part of this shift, Iranian flags and banners that previously adorned numerous sites in the area have been replaced with the Syrian flag, marking a symbolic transition at the behest of regime forces. Lebanese Hezbollah, meanwhile, is actively engaged in the recruitment, military training and arming of local men in Al-Hasakah and Deir Ezzor.
Regime forces reinforced their positions along conflict lines in Sheikh Maqsoud and the western countryside of Kobani. They also sent reinforcements to the city of Deir Ezzor. In the countryside of Deir Ezzor and Al Mayadin, the regime-backed Al-Qatirji militia launched a campaign to recruit dozens of minors between the ages of 14-17 as guards, with recruits offered a monthly salary of 400,000 Syrian pounds (approximately $40).
Russian forces conducted regular patrols near Manbij, northern Al-Hasakah, and the Kobani countryside. They also continued weekly joint military patrols with the Turkish army.
SDF Activity
As flows of narcotics have exploded across Syria's borders, SDF patrols have stepped up anti-drug operations. Their forces arrested a drug dealer and seized a large quantity of drugs in his possession during a raid on a site in Raqqa. In the eastern Deir Ezzor countryside, an armed clash broke out between SDF members and smugglers following an SDF raid. As part of its security crackdown, the SDF arrested at least 25 people in the last month. Charges varied from ISIS membership to drug-related and smuggling offenses.
The SDF has forcibly recruited dozens of youths into its ranks in recent weeks, among them young girls as young as 14 years' old. Major conscription drives took place in Raqqa, Al-Hasakah and Aleppo governorates.
Political & Humanitarian Developments
Syrians continue to die indiscriminately due to landmines placed across the northeast. A regime officer was wounded by a landmine during a combing campaign in search of ISIS cells in the eastern desert of Deir Ezzor, and two members of the SDF were killed by a landmine explosion in their military vehicle outside Hama. 
In a sign of diversifying drug smuggling routes, members of the Syrian Free Army based in the 55-kilometer al-Tanf zone seized a drug shipment bound for Jordan estimated to contain 70,000 Captagon pills.
As many as seven Syrian families were forcibly deported from Lebanon to Syria last month—part of a recent wave in deportations led by Lebanese military and security forces. The deported families arrived in Raqqa with few supplies and in a desperate humanitarian situation. Meanwhile, 161 Syrians arrived at Qamishli's airport after escaping the civil war in Sudan. Their arrival is part of a Self Administration initiative to receive Syrian refugees from Sudan and Lebanon. 
At al-Hol camp, where inhabitants continue to live in poor conditions, the SDF carried out a series of raids and arrested five women of different nationalities on charges of ISIS membership. Amid growing pressure to return foreign nationals being held in the camps, the Self Administration also repatriated more than 100 Tajik nationals from al-Hol. The SDF also prepared an estimated 150 Iraqi families there for relocation into a camp in Iraq.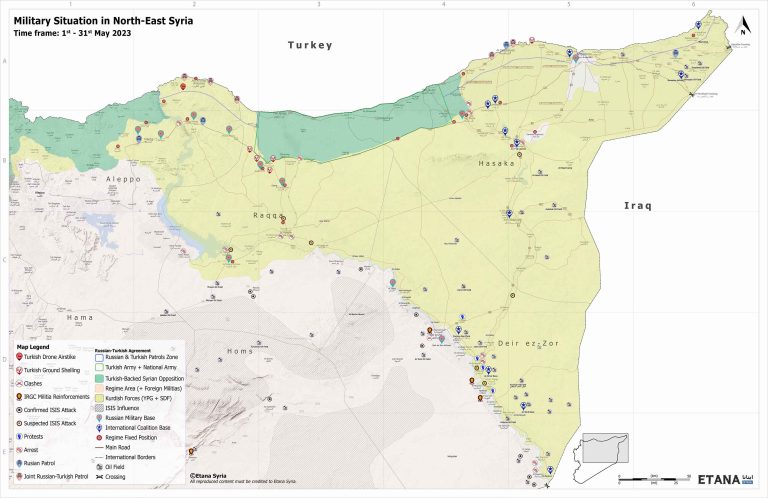 Download the map in high resolution
By agreeing to these Terms, you agree to receive email from us. The aim of our newsletter service is to keep our visitors updated with ETANA's latest content as it releases. The subscription to our newsletter service is not mandatory and can be cancelled anytime.

1. Frequency
Newsletter subscribers will receive a maximum of two emails each month.

2. Limited Liability
We reserve the sole right to either modify or discontinue the newsletter at any time and with or without notice. We will not be liable to you or any third party should we exercise such right. Any new features that augment or enhance the then-current services on this site shall also be subject to these Terms of Use.

We reserve the sole right to unsubscribe users / visitors from or newsletter service, without notice. This action will be taken if we discover a subscriber to have registered under a false email address.

3. Double opt-in
We require all subscribers to confirm their email address upon registration. You will therefor receive a message with a link you will need to use in order to confirm your email address and newsletter subscription.

4. Privacy policy
ETANA will not reproduce, sell, or publish your personal date to any third party. You' may change your subscription settings, or delete it altogether, at any time.


I agree with the
Terms & Conditions