This brief covers the reporting period of the month of April 2023
In the month leading up to its readmission to the Arab League, the Syrian regime initiated a series of empty actions to portray itself as a stabilizing actor in southern Syria. Among these efforts is a new round of reconciliation agreements that aim to collect arms and settle the status of nearly 250,000 wanted individuals. Extremely low levels of participation among targeted communities, along with surging numbers fleeing the country, belie the lack of seriousness in these efforts.
Another aspect of the regime's diplomatic campaign centers on its supposed fight against cross-border drug smuggling in the south. Syria's southern region is part of a major smuggling route, and Jordan, along with its Arab neighbors, are betting that cooperation with the Assad regime will reduce cross-border smuggling. But recent moves are largely for show: the regime's central organs are deeply complicit in smuggling activities—as evidenced by the recent deployment of new 4th Division units to the border, despite the group's established centrality in the drug trade. In contrast, the 8th Brigade has begun an earnest effort to clamp down on smuggling, albeit one that is deeply underfunded and undermanned. However, efforts continue to be hampered by a lack of resources and threats from regime forces intent on profiting from the drug trade.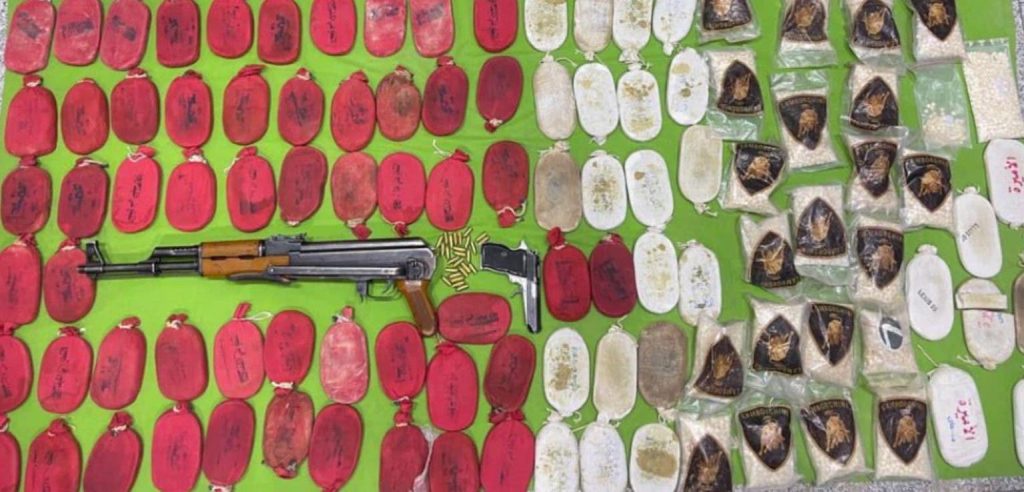 Regime's Empty Stabilization Efforts
Narcotics smuggling remains rampant in southern Syria despite the regime's promises to combat trafficking, a trade in whose networks Damascus is deeply embedded. To appease its Arab neighbors, the regime spent the weeks leading up to the 1 May Amman Consultative Meeting and subsequent Arab League decision engaging in largely meaningless anti-smuggling efforts: it moved 20 prefabricated mobile bases to border areas in southeastern Daraa, an area with little recorded smuggling activity. Meanwhile, more than 1,785 kilos of cannabis and Captagon pills arrived at several sites in southern Daraa and south-eastern Suwayda in the past month.
The regime is also pursuing new reconciliation deals within Daraa province, seeking to present itself as a responsible actor in the south to Arab states, who cite security and smuggling concerns as part of Syria's conditional return to the Arab League. In keeping with this, Damascus appointed last month General Mufid Hassan, former commander of the Syrian army's 1st Brigade, to lead the security and military committee in Daraa province. Officials also expanded the powers of regime security agencies in Daraa, allowing them to make arrests and conduct raids without prior approval from the south's joint security committee, which may lead to an increase in regime raids and arrests in the area. So far, though, these moves are empty gestures: very few wanted individuals have accepted the regime's reconciliation offer, and violence continues unabated in the region.
Security Developments
The regime-affiliated Liwa al-Quds militia also stepped up its activity in April: early in the month, its forces launched a missile strike in the occupied Golan heights, prompting Israeli retaliation. The group's leadership subsequently dismissed its deputy commander, Adnan Mohammad A-Sayed, who had claimed responsibility for the attack. The group also expanded recruitment efforts in western Daraa.
Tensions between regime forces and the 8th Brigade continue, resulting in occasional clashes and flare-ups. This past month, the 8th Brigade deployed dozens of soldiers to the Daraa countryside amid increased strains with the regime's Air Force Intelligence branch (Brigade leadership had requested the release of a local leader from the branch, but was refused). In line with this, groups belonging to the 8th Brigade began recruiting from men in the eastern Daraa countryside in a bid to expand their presence near the Nasib border crossing. Meanwhile, the 8th Brigade carried out extensive anti-smuggling raids in the same area.
The instability that characterizes south Syria continues to offer a fertile landscape for the presence of radical groups. Hay'at Tahrir a-Sham (HTS) provided several armed groups in eastern Daraa with arms and C4 bombs. These groups are responsible for previously planting explosives along the Damascus-Daraa highway.
Iran-backed Militias
South Syria continues to be a zone of influence for Iran and its proxies, even on the border with the occupied Golan Heights. Several ranking Hezbollah members met with Syrian regime officials in Quneitra city in early April. Around this time, about 150 Hezbollah military reinforcements arrived in Quneitra's northern countryside, while dozens of others deployed to points along the Damascus-Daraa highway. Hezbollah also established a new observation point in the southern countryside of Quneitra, near to the Golan heights.
Meanwhile, Iran's Islamic Revolutionary Guard Corps (IRGC) transferred a number of ground-to-air missiles in the northern Quneitra countryside. Shortly after, Israel conducted intensive reconnaissance flights over the area, and on 2 April its forces shot down an Iranian drone nearby.
Instability in South Syria
Crime and general lawlessness are sharply on the rise, consistent with the long-running breakdown in centralized authority in the south. Both armed groups and unaffiliated individuals are responsible for the surge in robberies and kidnappings for ransom, the latter of which remain a normal part of life there. At least 8 kidnappings were recorded targeting drug smugglers and at least 3 ranking regime commanders.
Regime forces and civilians were targeted in a wave of deadly attacks in April, and the town of As Sanamayn has emerged as a particular hotspot of unrest and targeted assassinations. Over 19 assassinations were successfully carried out in the southwest, targeting figures that included regime soldiers, former opposition leaders, drug traffickers, and displaced civilians. Dozens of other attempts were also recorded. Additionally, an armed group attacked an Air Intelligence checkpoint with RPG shells, injuring 2 soldiers. Another armed group attacked Military Intelligence unit Branch 220 with medium weapons, killing the unit's first assistant and injuring several others.
Humanitarian and Societal Developments
With violence and unrest continuing to plague the south, the flight of people from southern Syria continues unabated. More than 200 young men from Daraa province arrived on the coast of Italy from Libya, bringing the number of young men from Daraa who have arrived in the European Union to more than 2,000 since February this year.
Attached Map: Recent Developments in South Syria
(For a high-resolution version of this map, please use the form at the bottom of the page)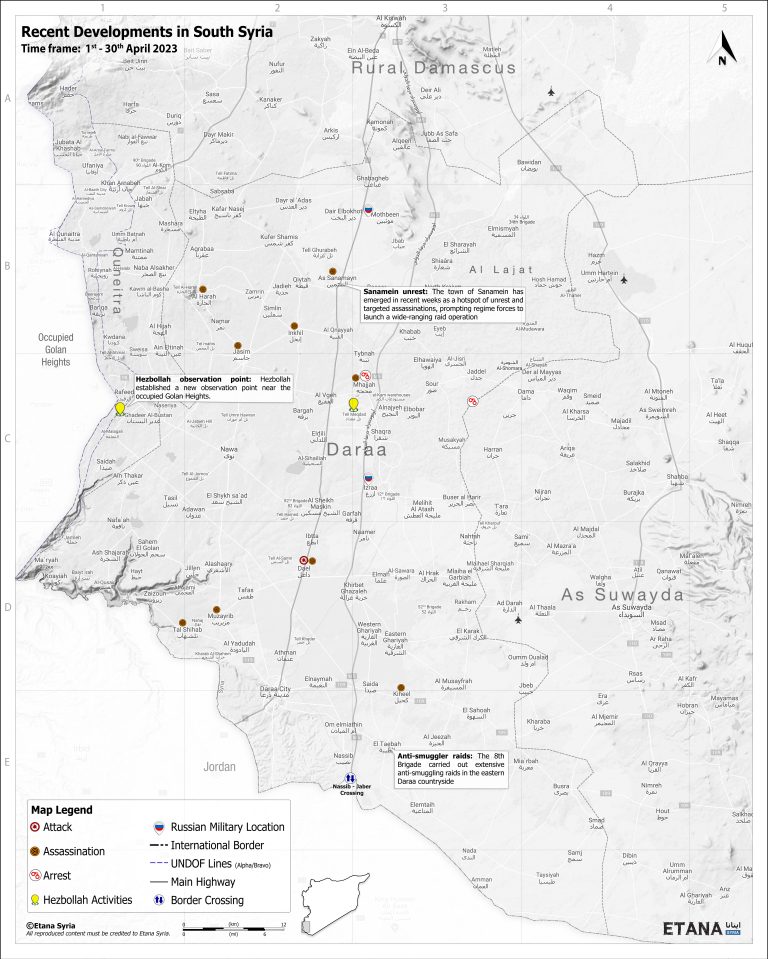 Download the map in high resolution
By agreeing to these Terms, you agree to receive email from us. The aim of our newsletter service is to keep our visitors updated with ETANA's latest content as it releases. The subscription to our newsletter service is not mandatory and can be cancelled anytime.

1. Frequency
Newsletter subscribers will receive a maximum of two emails each month.

2. Limited Liability
We reserve the sole right to either modify or discontinue the newsletter at any time and with or without notice. We will not be liable to you or any third party should we exercise such right. Any new features that augment or enhance the then-current services on this site shall also be subject to these Terms of Use.

We reserve the sole right to unsubscribe users / visitors from or newsletter service, without notice. This action will be taken if we discover a subscriber to have registered under a false email address.

3. Double opt-in
We require all subscribers to confirm their email address upon registration. You will therefor receive a message with a link you will need to use in order to confirm your email address and newsletter subscription.

4. Privacy policy
ETANA will not reproduce, sell, or publish your personal date to any third party. You' may change your subscription settings, or delete it altogether, at any time.


I agree with the
Terms & Conditions