The regime purged hundreds of thousands of Syrians from receiving state subsidies again this year, further destroying what remains of the Syrian welfare state. The value of subsidies covering essential food and fuel items reached up to $80 for an average family, double the public sector salary, leaving Syrians no longer eligible for subsidies increasingly at risk of food insecurity and hunger. Public outrage has swept across regime-controlled areas, with revolutionary slogans graffitied in traditional regime areas, and violent protests in the south. However, there is little expectation that this initial fury will evolve further, as most Syrians are exhausted and hopeless after the past decade of conflict. In turn, the regime is leveraging increased hours of electricity provision as a form of patronage to quell discontent in its strongholds and around Damascus. These developments, along with further anticipated wheat shortages this year, mark the economic turmoil and desperation that will characterize life for most Syrians this year.
 Economic Indicators
Exchange rate: The relative stability of the Syrian pound continued for another month, with the currency weakening only moderately to around 3,600 SYP = $1 USD. This stability has been achieved through the regime's emphasis on restricting imports and tightly controlling circulation of the Syrian pound.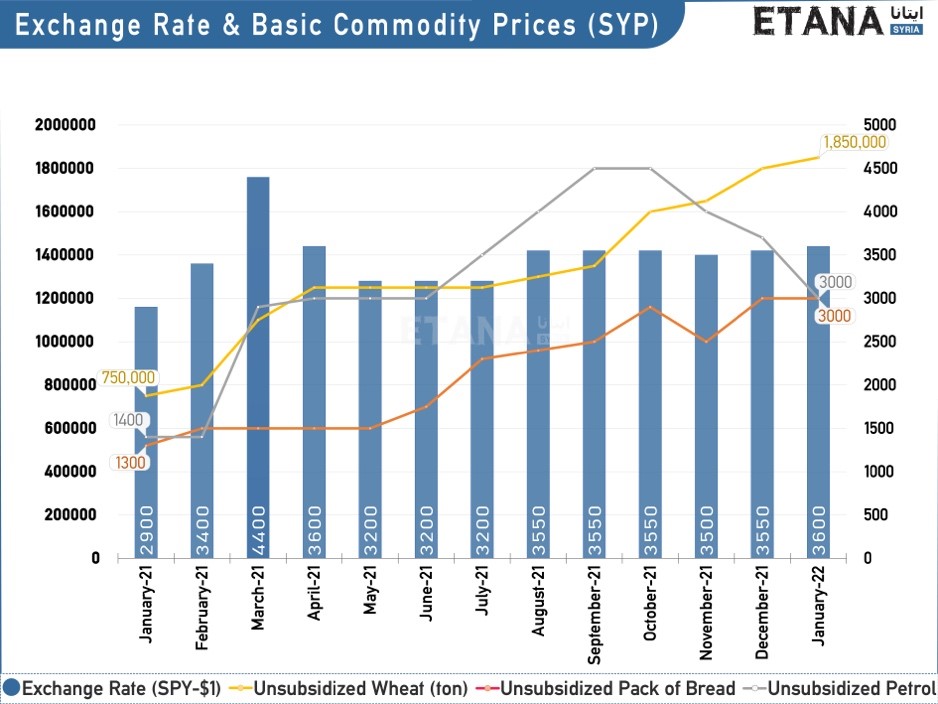 Wheat:
– Shortages: : Evidence is growing that this year's wheat harvest will be disastrous in regime-held areas of Syria, the combined result of climate-related challenges and policy choices by the regime. Initial surveys suggest that the areas of wheat cultivation for the 2022 season are about 50% of what they were in 2021.
– Supply: The regime is not optimistic that it will be able to secure wheat from SDF-controlled areas to meet need in regime-controlled areas, even with its dramatic increase in wheat purchase price. Damascus is working to finalize a contract with Russia to import 1.5 million tons of wheat from Crimea in order to sustain bread production.
Fuel:
–Winter heating: As temperatures plunged across Syria last month, the regime has greatly feared the possibility of unrest over its failure to provide heating. To prevent this, the regime has shifted fuel away from state functions, the military and transportation allocations. The amount of heating oil allocated to each family has been raised by 50 liters of subsidized gas.
Regime Economic Mitigation Measures
Austerity measures:
– Subsidy cuts: With the beginning of February (1.2), the regime began implementing a vast program of subsidy cuts that have been in the works for months, as part of a major reimagination of the state's role in daily Syrian life. The cuts will completely eliminate assistance from a number of sectors, removing virtually all subsidy support for about 20-30% of the population. Furthermore, if the head of household is dropped from eligibility, the entire family is also dropped. This alone means that 750,000 families are poised to lose benefits. However, if the head of household retains eligibility but an individual family member does not, only the individual is dropped. This makes it difficult to calculate the exact number of Syrians who are being removed from the benefits rolls.
– Categories: The regime announced the categories which will no longer qualify for subsidies:
1- Persons who own a commercial registry in Syria, regardless of classification
2- Anyone who owns a car manufactured after 2008 with an engine capacity exceeding 1500 cc
3- Any person holding  more than one property deed
4- Any person who has an investment in Syria's industrial, commercial, educational, medical or tourism sectors
5- Any primary family breadwinner who resides outside Syria.
While there is a mechanism to file a complaint if wrongly removed from receiving subsidies, it not expected that recourse will be effective due to the disorganization of information in the state's ministries.
– Cost of living: Large segments of the Syrian population which no longer qualify for subsidies are facing astronomical increases in their cost of living. Prices for items such as cooking oil will rise from 500 to 1,700 SYP, gasoline will from 1,100 to 2,500 SYP, heating oil from 11,400 to 34,600 SYP, and rice from 1,000 to 3,600 SYP. Collectively, state subsidies amount to over $80 in assistance per month for an average family, double the salary of a state employee in Syria, which currently stands at $40 USD following last month's increase. Subsidized support is absolutely indispensable for most Syrians, standing between millions of people and hunger.
– Public anger: Outrage has been the public response across regime-controlled areas, including loyalist strongholds and former opposition areas. In coastal areas, slogans against the regime from the early days of the revolution have been graffitied on walls, and in the south, smartcard centers and state-run bakeries have been violently attacked. While criticism and anger on social media is widespread, it has largely skirted attacking Assad directly. However, various ministries have felt pressured to present the extent of the cuts as an unintended mistake blaming "errors" by other departments, and there is some anticipation that with the scale of public anger, the regime may reinstate 30-50% of subsidies.
Electricity supply:
– Shortages: In late January, the regime announced a weeklong official holiday for all public institutions in Syria (23.1). The holiday was meant to save face amidst the regime's inability to provide power for the work of public sector institutions, as lights went off in most public buildings.
– Political strategy: The inability to power state buildings was partly due to a regime strategy to shore up support in loyalist communities by redirecting electricity to coastal regions and increasing the hours of daily power. This has also come at the expense of industrial cities, where power availability has been reduced to ten hours per day, from 7:00-17:00, for a period of ten days. The regime is increasingly leveraging electricity provision as a form of patronage to bolster support in certain areas and mitigate against growing discontent.