Russian airstrikes returned to southern Idlib for the first time in months, with a series of aerial bombardments menacing villages in the Jabal al-Zawiya area. Russian aerial attacks against the town of Fleifel coincided with upticks in shelling of opposition-held areas by pro-regime forces and allied militias, putting civilians and local armed groups on edge at the prospect of a renewed push by ground forces in the area. Adding to these tensions, rumors circulating since last month have seemed to suggest that Russian forces are due to begin a large-scale withdrawal from Tel Rifaat. However, troop movements are part of regular Russian activity in the area, and Russian troop numbers have remained steady around Tel Rifaat.
Attached Map: Military Situation in North-West Syria
Russian & Regime Activity
Until recently, there has been a noticeable decline in Russian airstrikes on opposition-held north-west Syria. The return of Russian airstrikes is therefore notable: recent activity targeted southern Idlib's Jabal al-Zawiya, coinciding with regime shelling of civilians in the southern Idlib countryside. Regime forces and affiliated militias continue to regularly shell opposition-held areas in the province's south, as well as areas of western Aleppo and western Hama, striking a range of both military and civilian targets. Artillery strikes were recorded in more than two dozen towns across the north-west. In addition to regularly shelling opposition areas, regime forces continue to attempt sporadic advances across their frontlines with opposition groups.
On 27th May, local Russian media first reported that Col. Oleg Viktorovich Pechevisty was killed in Syria, where he had allegedly led the Russian special forces. While Etana sources have confirmed the death of a Russian soldier in Syria, details on his killing vary. Russian media claims that Pechevisty was killed in an ISIS attack in the Homs countryside, while Syrian opposition channels say he died as a result of Ha'yat Tahrir a-Sham (HTS) shelling in the north Latakia countryside.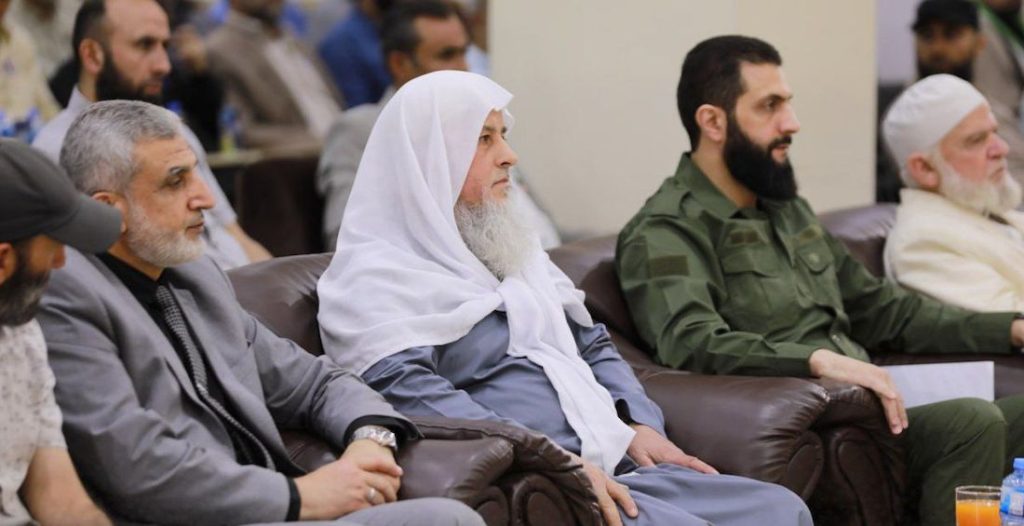 Radical Activity
Radical groups affiliated with the Fateh al-Mabin operations room have continued to sporadically clash with regime forces, killing soldiers in sniper attacks along demarcation lines in both southern Idlib and northern Latakia. Fateh al-Mabin shelled regime positions in an area southeast of Idlib, killing two regime soldiers and forcing back a regime advance attempt near Kafr Nabl. Additionally, hardline fighters from HTS killed two regime soldiers with sniper fire on the al-Kubaynah front. HTS members also carried out a missile strike on the regime command headquarters, north of Latakia.
On the political front, HTS leadership convened a "conference" in the Aleppo countryside aimed at rallying support for the liberation of Aleppo from the Syrian regime. The event reaffirmed HTS leader Abu Muhammad al-Jolani's continued expansionist ambitions. His supporters are rallying around the assertion that Aleppo's liberation can only be achieved through unity under Jolani's leadership.
Israeli Strike
Israeli forces targeted Aleppo International Airport and several nearby sites in south-east Aleppo on 2nd May in an airstrike that temporarily disabled the airport's operations. The strikes killed at least three troops and injured five others. Two civilians were also wounded.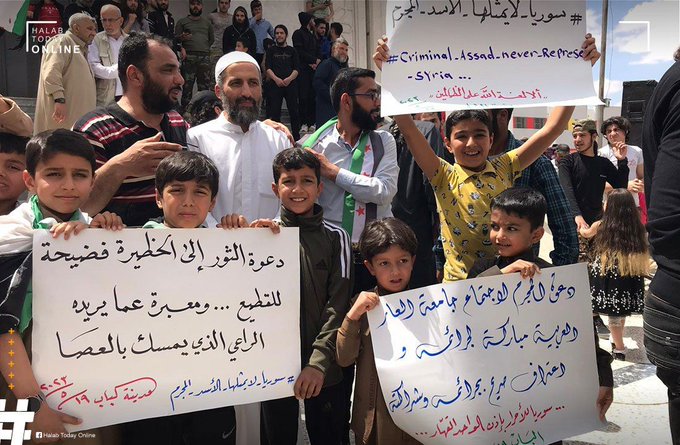 Political Developments
Widespread demonstrations took place across northern Syria last month, where civilians voiced their opposition to Arab normalization with the Assad regime. Demonstrators emphasized the importance of continued resistance against the regime and urged the international community to push for the removal of Bashar al-Assad from power. 
The protests coincided with Assad's attendance at the Arab League conference in Jeddah, his first appearance at the summit following a more than 12-year absence. Writing in The New Arab, Etana Policy Director Lara Nelson emphasized that, despite Assad's turn to the Arab League, it is essential that western states hold the regime accountable and pursue the aims of UN Resolution 2254.