Despite continuing to profit handsomely from the expanding narcotics trade in south Syria, the Assad regime launched a series of largely symbolic measures to signal that it is clamping down on the illicit sector. Security agencies conducted a number of highly publicized raids in eastern Daraa, staging the appearance of a crackdown on smuggling networks in the weeks leading up to the Arab League summit last month. The summit, held in Jeddah, marked Syria's re-admittance to the league after a 12-year absence. 
In reality, however, the latest campaign seems like past regime overtures regarding cross-border smuggling: regime forces actually alerted smugglers ahead of the raids, so the activity yielded few actual arrests with only minimal amounts of narcotics intercepted. Most of those who were detained were ultimately released after a short period of time.
The most significant counter-smuggling actions in south-west Syria were in fact airstrikes that targeted the home of smuggling kingpin Marai Ar-Ramthan in eastern Suwayda, killing him and a number of his family members in early May. The strike has had a chilling effect on smuggling operations across the south, after years of virtually absolute impunity for smugglers.
Attached Map: Military Situation in South Syria
(For a high-resolution version of this map, please use the form at the bottom of the page)
Security Developments
One of the region's most prominent smugglers, Marai Ar-Ramthan, was targeted in eastern Suwayda by an airstrike that killed him and a number of his immediate family members. A simultaneous airstrike targeted a building used for storing drugs. The strikes were allegedly undertaken by Jordanian forces and represent an unprecedented step against the narcotics trade, prompting other prominent smugglers to shuffle drug storage locations, change vehicles and move residences—a process that is still ongoing.
Despite Ar-Ramthan's death, smuggling networks continue to transport narcotics to south Syria in preparation for cross-border transport. To combat persistent smuggling efforts, Ahmad Al-Awdah's 8th Brigade continued its campaign of anti-drug raids near the Syrian-Jordanian border. In early May, 8th Brigade forces conducted raids on smuggling warehouses in the eastern Daraa countryside, seizing quantities of hashish and Captagon.
Regime Activity
Regime intelligence agencies conducted a number of well-publicized raids against drug storage warehouses in eastern Daraa, meant to give the appearance of a regime-led anti-smuggling crackdown in the weeks before the Arab League summit. In most cases, smugglers were warned by the regime beforehand. All in all, the raids did not result in any notable arrests, and many who were captured were subsequently released after a brief spell in detention.
Military Intelligence has assumed control of all border crossings in south Syria in what the regime is touting as another anti-smuggling measure. This move is problematic in and of itself given Military Intelligence's outsized role in facilitating narcotics supply-chains and cross-border smuggling in south Syria, but is part of a series of symbolic measures through which the regime hopes to present itself to regional states as a bulwark against smuggling.
Additionally, the regime is pushing forward with efforts to establish "reconciliation" agreements with a large number of wanted individuals in the south, establishing multiple "reconciliation" centers throughout the western Daraa countryside in recent weeks. The recent "reconciliation" push is primarily meant to address regional skepticism regarding the regime's ability to pose as a guarantor of security and stability in the volatile south-west.
All past regime "reconciliation" offers have neither offered people security or protection from arrest. Many civilians arbitrarily arrested in south Syria have been processed through such so-called "reconciliation" centers.
The regime has also tried to give the appearance of countering extremism. While a range of radical groups remain present in the south, regime forces assassinated two members of Ha'yat Tahrir a-Sham (HTS) in Daraa's western countryside. In retaliation, HTS cells abducted and killed a reconciliation committee member several days later.
Instability in South Syria
The south is also witnessing a surge in kidnappings and robberies committed by both armed groups and unaffiliated individuals. At least seven kidnappings were recorded in recent weeks, mostly targeting drug smugglers and Military Intelligence affiliates.
Targeted killings have shot up over the past month: assassinations claimed the lives of dozens of individuals among them, regime soldiers, former opposition leaders, drug traffickers, reconciliation committee members, HTS members and displaced civilians. Dozens of other assassination attempts were recorded across the south.
Finally, in a first-of-its-kind incident, a resident of Daraa Camp in Daraa city threatened to commit suicide after a regime patrol confiscated his motorcycle. At least five young people have committed suicide in Daraa in recent weeks, a once-rare phenomenon that is becoming more common as a result of security instability, socio-economic deprivation and grim future prospects in local communities across the south.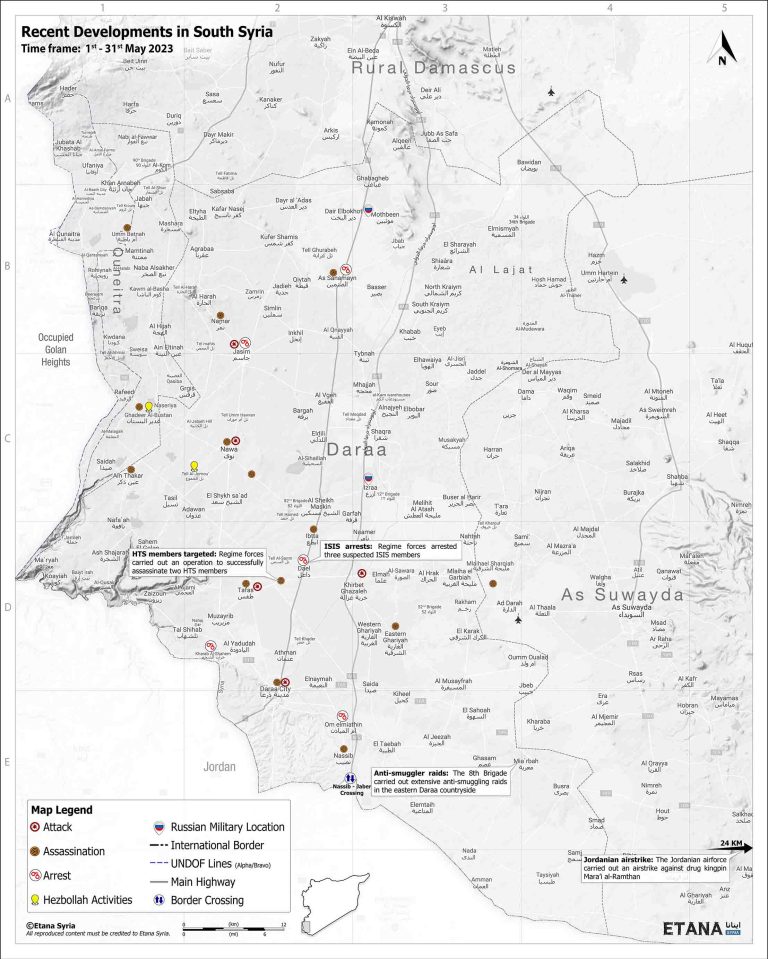 Download the map in high resolution
By agreeing to these Terms, you agree to receive email from us. The aim of our newsletter service is to keep our visitors updated with ETANA's latest content as it releases. The subscription to our newsletter service is not mandatory and can be cancelled anytime.

1. Frequency
Newsletter subscribers will receive a maximum of two emails each month.

2. Limited Liability
We reserve the sole right to either modify or discontinue the newsletter at any time and with or without notice. We will not be liable to you or any third party should we exercise such right. Any new features that augment or enhance the then-current services on this site shall also be subject to these Terms of Use.

We reserve the sole right to unsubscribe users / visitors from or newsletter service, without notice. This action will be taken if we discover a subscriber to have registered under a false email address.

3. Double opt-in
We require all subscribers to confirm their email address upon registration. You will therefor receive a message with a link you will need to use in order to confirm your email address and newsletter subscription.

4. Privacy policy
ETANA will not reproduce, sell, or publish your personal date to any third party. You' may change your subscription settings, or delete it altogether, at any time.


I agree with the
Terms & Conditions