Anti-regime demonstrations took place across more than a dozen towns and cities in Daraa province in March, marking the 12th anniversary of the 2011 Syrian uprising. The protests are the latest evidence of enduring anti-regime sentiment in Daraa. The province's civilians are suffering from the cumulative hardships of an ongoing fuel crisis, rampant corruption as well as a lack of basic services such as water and electricity. The desperation characterizing daily life in southern Syria is pushing a new wave of emigration of young men from the country. Amid the dire living situation, Iran and Hezbollah continue to flourish in the south and build their clandestine operational capacities.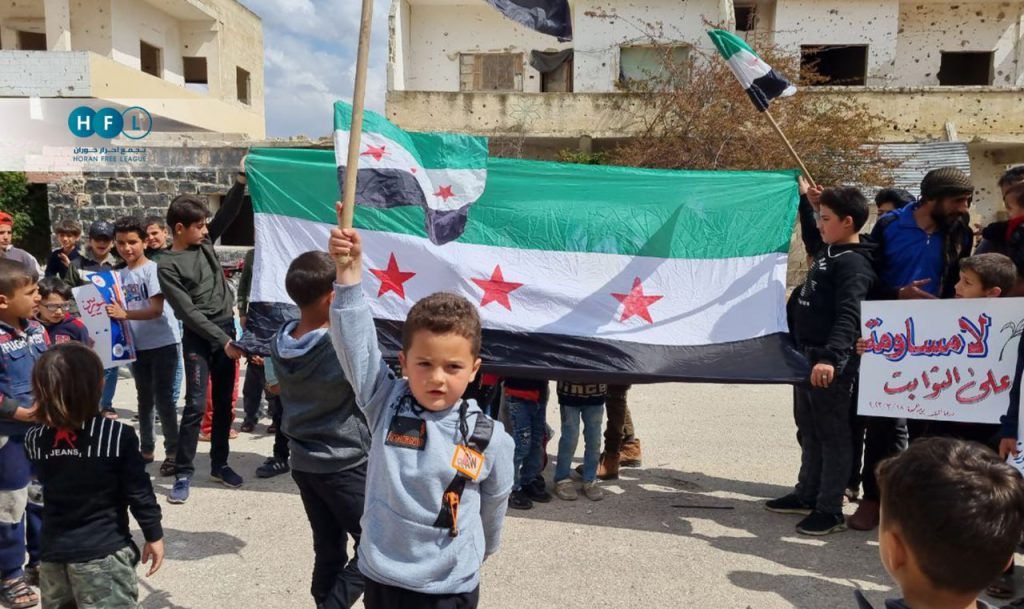 Political and Humanitarian Developments
Thousands of Syrians protested the regime in March to mark the 12th anniversary of the 2011 uprising. In Daraa, more than a dozen communities witnessed protests over the course of four days—the most widespread anti-Assad protests there in months. The region, which shares a border with Jordan and the Israeli-occupied Golan Heights, was the site of initial anti-regime protests and a brutal crackdown in 2011. Much of Daraa was held by opposition forces until 2018, when a settlement agreement was imposed on the area through a Russian-mediated deal between the regime and the opposition.
The protests were exacerbated by the ongoing fuel crisis taking place across the country, which has prompted more than 1,000 young men to flee southern Syria for Lebanon in recent weeks. The regime's ongoing and aggressive recruitment campaign is another significant factor driving emigration.
Security Developments
Multiple armed actors continue to compete for authority in the south. Regime forces have increased their patrols in eastern Daraa, targeting individuals wanted for mandatory military and reserve service. Russian patrols, meanwhile, conducted an inspection of the area around a newly established regime checkpoint, signaling a resumption of patrols after a period of suspension. Additionally, Russian warplanes have increased their presence over eastern Daraa, coinciding with Russian Air Force operations against a number of targets in the central Syrian desert. Iran also continues to maintain an operational presence in the area despite the ongoing threat of Israeli airstrikes.
During the reporting period, several generals from the Islamic Revolutionary Guard Corps (IRGC) visited strategic assets in Quneitra as part of its continued operational presence in the area. Tehran's ally Hezbollah has meanwhile continued its recruiting efforts in the south, most recently reaching out to young men in the northern Daraa countryside. In the southern neighborhoods of Daraa, members of ISIS cells have reportedly returned and are anticipated to carry out operations in the area.
Amid the ongoing struggle for central authority over southern Syria, crime and general lawlessness are sharply on the rise. Both armed groups and unaffiliated individuals are responsible for a recent surge in kidnapping and robberies. This past month, at least three kidnappings targeted prominent local professionals and civil servants, while numerous individuals were killed amid a rising wave of robberies sweeping the south.
Narcotics smuggling remains rampant across southern Syria as organized networks continue to transport drugs to and across the Syrian-Jordanian border. The 8th Brigade, which is comprised primarily of former opposition forces who settled their status with the regime following July 2018, carried out extensive anti-smuggling raids between Daraa's eastern countryside and western Suwayda –an area known as a hotspot for drugs and weapons smuggling –and arrested five people in mid-March. While the 8th's Brigade's stronghold is south-east Daraa, primarily Busra al-Sham and surrounding areas, it remains an influential security actor in the south, carrying out anti-ISIS and anti-smuggling operations, in addition to counterbalancing regime aggression in the area.
Attached Map: Recent Developments in South Syria – 4th April 2023
(For a high-resolution version of this map, please use the form at the bottom of the page)
Download the map in high resolution
By agreeing to these Terms, you agree to receive email from us. The aim of our newsletter service is to keep our visitors updated with ETANA's latest content as it releases. The subscription to our newsletter service is not mandatory and can be cancelled anytime.

1. Frequency
Newsletter subscribers will receive a maximum of two emails each month.

2. Limited Liability
We reserve the sole right to either modify or discontinue the newsletter at any time and with or without notice. We will not be liable to you or any third party should we exercise such right. Any new features that augment or enhance the then-current services on this site shall also be subject to these Terms of Use.

We reserve the sole right to unsubscribe users / visitors from or newsletter service, without notice. This action will be taken if we discover a subscriber to have registered under a false email address.

3. Double opt-in
We require all subscribers to confirm their email address upon registration. You will therefor receive a message with a link you will need to use in order to confirm your email address and newsletter subscription.

4. Privacy policy
ETANA will not reproduce, sell, or publish your personal date to any third party. You' may change your subscription settings, or delete it altogether, at any time.


I agree with the
Terms & Conditions