This reporting period covers the month of July.
Major clashes between the majority-Arab Deir Ezzor Military Council and other factions of the Syrian Democratic Forces (SDF) have rocked Deir Ezzor province in recent weeks. A simmering conflict between the council and the SDF-affiliated police erupted into two days of fighting that killed at least one and wounded three others, after which the police arrested several council members. The violence required emergency mediation by representatives from the US-led International Coalition, and the situation has since remained tense but peaceful. Amidst an intensifying conscription drive by the SDF, the forced recruitment of minors into armed groups is also sharply on the rise. The SDF and Kurdistan Workers' Party (PKK)-aligned Revolutionary Youth Movement abducted around a dozen children in recent weeks, both boys and girls as young as 13 years' old. The emergent policy is sparking further protests and explosive displays of public anger in communities throughout the region.
Attached Map: Military Situation in North-East Syria
(For a high-resolution version of this map, please use the form at the bottom of the page)
Popular Resistance
In 2018 the regime clandestinely founded a shadow organization in north-east Syria known as the "Popular Resistance." Its fighters conduct IED attacks targeting SDF personnel and sites with the goal of creating tensions between the group and local communities. The Popular Resistance's tactics closely resemble those of ISIS. As of now, the group lacks a unified structure and comprises separate volunteer groups, most led by various leaders. In the coming weeks and months, Popular Resistance groups are expected to increase attacks in Hasakeh and Deir Ezzor provinces.
SDF Activity
Simmering tension between the Deir Ezzor Military Council and SDF-affiliated police erupted into two days of clashes toward the end of July that killed one and injured three others, after police arrested several members of the council. In addition to cutting off roads and clashing with the SDF, members of the Deir Ezzor Military Council also attacked the SDF's military police headquarters north of Deir Ezzor. They burned the buildings to the ground, and only after diplomatic intervention and mediation from Coalition representatives did the clashes subside. For now, tensions remain but the situation is peaceful.
Elsewhere, the SDF launched a major new wave of forced conscription campaigns across all regions under its control. Most of this activity is taking place in the eastern Deir Ezzor countryside and around Hasakah city. During these forced conscription operations, the SDF and Kurdistan Workers' Party (PKK)-aligned Revolutionary Youth Movement abducted at least a dozen minors to join their ranks, including children as young as 13 years' old. The recruitment of minors has drawn growing public backlash and demonstrations, with the SDF dispersing a protest in Hasakah calling for the release of minors.
As the economic situation across the country has rapidly deteriorated in recent weeks, surging numbers have attempted to smuggle out of the country into Turkey. The SDF is using violence and arrests to deter civilians from attempting to reach Turkish-administered "Peace Spring" areas: in July, they arrested at least 19 people for attempting the movement.
Iranian Militia Activity
In early July Iranian militias mobilized a tanker, along with other vehicles, to transport smuggled weapons from the Syrian-Iraqi border toward Al Bukamal. Another military convoy belonging to the Islamic Revolutionary Guard Corps (IRGC) transported weapons and vehicles toward the Syrian desert. The IRGC also transported heavy machinery and weapons to areas west of Deir Ezzor. In the Badia (desert), south of Deir Ezzor, Lebanese Hezbollah and Iranian militias conducted joint military exercises near the 137th Brigade base in late July.
Russian & Pro-Regime Activity
Russian forces continued weekly joint military patrols with the Turkish army, conducting a number of tours through the eastern Kobani countryside and western countryside of all-Darbasiyah throughout the month. Separately, they also conducted a number of patrols across Hasakeh, Aleppo, and Raqqa.
ISIS Activity
ISIS operatives have persisted in launching attacks against the SDF across the north-east. Throughout the month of July, there were a total of nine armed assaults that took place in Deir Ezzor and Hasakah provinces, killing three SDF personnel and injuring several others critically. It is currently unclear if some of these attacks were perpetrated not by ISIS, but by clandestine regime-backed groups known collectively as the "Popular Resistance." Popular Resistance members use tactics indistinguishable from ISIS in order to undermine the SDF and erode security conditions.
The number of ISIS attacks against regime forces has remained relatively low compared with the highs of previous months, with most attacks centred around the central Badia (desert) region. At least seven regime troops were killed in a series of three attacks near Al Bukamal and al-Sukhna in July. Iran's IRGC and the Iranian-backed Liwa' al-Fatemiyoun militia, meanwhile, continue to be a growing target for ISIS attacks. So far, four armed attacks that killed at least one fighter and injured several others were recorded against these groups. All attacks took place in the desert southeast of Deir Ezzor.
Political & Humanitarian Developments
In addition to public protests over the forced conscription of minors, residents of Manbij launched a general strike on 18th July affecting the city's markets and shops in rejection of the SDF's compulsory recruitment policy and allegations of institutional corruption. In Raqqa, at least four people–including two children–were seriously injured by gunfire from armed drug traffickers.
Al-Hol camp is experiencing increasing cases of meningitis, sunstroke, enteritis and dehydration due to high temperatures and polluted drinking water. As a result of the poor conditions, the SDF is preparing to release around 200 families originally from Raqqa province. The SDF also conducted several raids within the camp, arresting more than 30 people for unknown offences.
International returns of ISIS members and their families have continued in recent weeks, with the repatriation of more than 37 French nationals, all women and children, from the Roj camp in the al-Malikiyah countryside. The SDF also handed over two women and three children of Canadian nationality to a Canadian delegation in Qamishli ahead of their repatriation.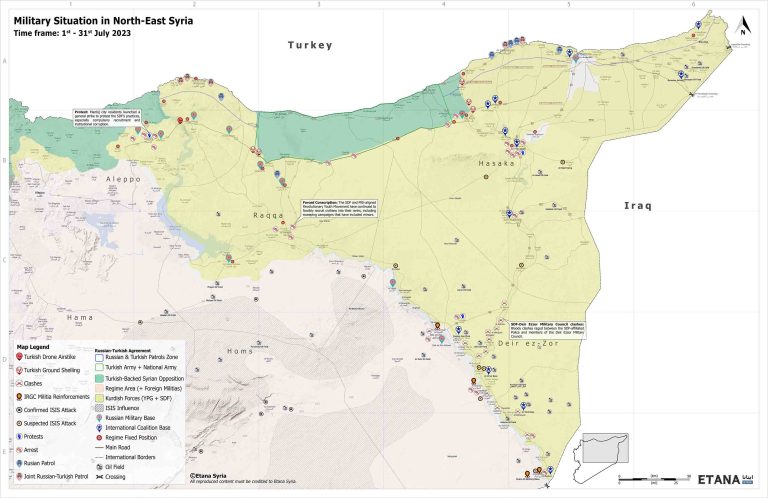 Download the map in high resolution
By agreeing to these Terms, you agree to receive email from us. The aim of our newsletter service is to keep our visitors updated with ETANA's latest content as it releases. The subscription to our newsletter service is not mandatory and can be cancelled anytime.

1. Frequency
Newsletter subscribers will receive a maximum of two emails each month.

2. Limited Liability
We reserve the sole right to either modify or discontinue the newsletter at any time and with or without notice. We will not be liable to you or any third party should we exercise such right. Any new features that augment or enhance the then-current services on this site shall also be subject to these Terms of Use.

We reserve the sole right to unsubscribe users / visitors from or newsletter service, without notice. This action will be taken if we discover a subscriber to have registered under a false email address.

3. Double opt-in
We require all subscribers to confirm their email address upon registration. You will therefor receive a message with a link you will need to use in order to confirm your email address and newsletter subscription.

4. Privacy policy
ETANA will not reproduce, sell, or publish your personal date to any third party. You' may change your subscription settings, or delete it altogether, at any time.


I agree with the
Terms & Conditions