While Ankara's threats of an incursion into north-east Syria have ramped up in recent weeks, particularly following the 13th November bombing in Istanbul that Turkish authorities blamed on Kurdish groups, there are few significant signs of troop movements between positions along the Syrian-Turkish border. Nevertheless, the possibility of a Turkish operation in north Syria remains likely in light of statements by Turkish officials. A Turkish-led incursion into Syria would likely take one of two forms: The first would see a campaign centred around the city of Tel Rifat and its surrounding villages––vulnerable territory for the SDF because it is cut off from other Self-Administration areas meaning the SDF there is reliant on the regime and its allies for supply links. However, Russia's presence at the nearby Menagh Airbase would likely require a prior diplomatic agreement to in order for such an operation to begin. The second possibility is a campaign targeting the sizeable cities of Manbij and Kobani, which would connect territory already held by Turkey and Turkish-backed groups in the Operation Euphrates Shield and Peace Spring areas. This second scenario also presents ample risks, as it opens up a massive new flank to SDF and pro-regime forces and would involve delicate urban warfare. It would also require a large contribution of trained and organized manpower from pro-Turkish militias of the Syrian National Army (SNA)––a prospect that currently seems remote, considering the in-fighting among these groups that has destabilized north Aleppo province in recent months. Elsewhere in the north-west, regime and Russian, opposition and radical forces continue to clash along frontlines in Aleppo and Idlib provinces.
Attached Map: Military Situation in North-West Syria – 5th December 2022
(For a high-resolution version of this map, please use the form at the bottom of the page)
Turkish Movements
Turkish-SDF clashes: Turkish forces and their allied militia groups stepped up attacks against Syrian Democratic Forces (SDF) positions in recent weeks, following a bloody bombing in Istanbul on 13th November that Turkish leaders blamed on Kurdish groups. Turkey and Turkish-backed groups later launched waves of attacks against SDF positions army forces with artillery and aircraft, targeting the cities and villages of Ahras, al-Jurn, al-Hurriya, al-Rabi'at, Umm Harmala, Tal al-Ward, Mara'naz, Ain Daqna, al-Muhsinali, Jarad, Mazraat Abroush, Tal Shughair, Deir Jamal, Sheikh Ghisi, Harbel, al-Qahtaniya, Tal Tamr, the Kobani countryside, Menagh Airport, Tal Refaat, al-Malikiyah, Manbij and Abu Rasin. Among the targets were several regime bases, which Ankara increasingly views as a strategic partner of the SDF, resulting in a number of regime casualties.
SDF Movements
Artillery shelling: In response to continuous Turkish shelling, the SDF shelled a market in city of Azaz, in the northern Aleppo countryside, killing five civilians and injuring another five (21.11).
Regime & Russian Movements
Regime violations: Regime forces and affiliated militias have continued to shell areas and villages in the southern Idlib and western Hama countryside on a daily basis, striking a range of both military and civilian targets. Artillery strikes were recorded in more than two dozen towns in the first week of November, including Kansafra, Kadura, al-Bara, Benin, al-Fatirah, Areeha, Shanan, San, Maa'rat al-Na'asan, al-Qahira, Sufuhun, al-Bara, Deir Sunbul, al-Malajah, Ma'arbalit, Maklabis, al-Habata, al-Ziyara, Jabal al-Arba'in, Taltita, al-Ankawi, Kafr Nouran, Tadya, Kafr Taal, Makalbis, al-Habata, al-Sarmaniyah, al-Qarqur, Zaqqum, Tal Wassit,, Ariha, Efes, al-Nayrab, Khirbet al-Naqous, Darat Azza, Kafr Ta'al and the Sheikh Suleiman countryside (1.11, 6.11, 7.11). In one particularly bloody attack, the regime launched internationally prohibited cluster munitions at the al-Watan, Wadi Haj Khaled and Baiba displacement camps, killing at least nine civilians and wounding 70 others, mostly women and children. Regime forces also mistakenly targeted one of its own positions with artillery in the village of Dana, south of Idlib, killing and wounding a number of pro-regime fighters (11.1).
Russian violations: Russian forces have continued to accelerate airstrikes against civilian targets across Idlib province and the west Aleppo countryside in recent weeks, demonstrating Moscow's renewed focus on northern Syria after a lull in activity following the invasion of Ukraine. Warplanes bombarded the villages of Darat Izza, Barzeh, Kinda, Babsiqa and a number of farms on the outskirts of Idlib, while also targeting the Bab al-Hawa hospital on the Syrian-Turkish border (2.11, 6.11, 21.11).
Attempted regime advance: Accompanied by heavy shelling, regime forces attempted to push through Ha'yat Tahrir a-Sham (HTS) frontlines on the San axis, east of the town of Nairab in the eastern Idlib countryside (7.11). HTS managed to drive regime forces back across the demarcation line.
Attacks by Opposition & Radical Factions
Radical group clashes with regime: Radical groups affiliated with the Fateh al-Mabin operations room have continued to sporadically clash with regime forces. The group launched a campaign of artillery strikes against regime positions in Saraqib, Maarat al-Numan, Maarat al-Nasan, Saraqib, Jobas and Horsh Khan al-Sabil in the Idlib countryside, the towns of Kafr Halab, Miznaz and Ajel in the Aleppo countryside, al-Bayda, the Bradun Dam in the Lattakia countryside, and the towns and villages of Shatha, Furo, al-Hassa, and Ain al-Hamam in the Al-Ghab Plain, west of Hama (6.11, 14.11). Clashes also broke out when members of Fateh al-Mabin attempted to infiltrate regime defenses in the town of Jourin, in an operation that lasted about 24 hours in total and resulted in several regime casualties (5.11).
Opposition clashes with regime: Violent clashes erupted between the regime and Turkish-backed SNA forces along the Tadef front, south of al-Bab, although neither side was able to advance (21.11). In addition, groups of the opposition-affiliated National Liberation Front (NLF) launched a successful missile strike against a regime military vehicle that was transporting troops on the Sheikh Aqil axis, west of Aleppo, killing and wounding a number of those inside (2.11).
Humanitarian Developments
Aid convoy: An aid convoy of 16 trucks entered north-west Syria from Turkey via the Saraqib-Tarnebah crossing east of Idlib, transporting aid supplied by UN agencies (4.11).
Anti-extremist demonstrations: The cities of Azaz and Afrin witnessed protests against the intervention of HTS in the northern Aleppo countryside, demonstrating the sustained opposition of local civilians and activists to the presence of extremists in the region.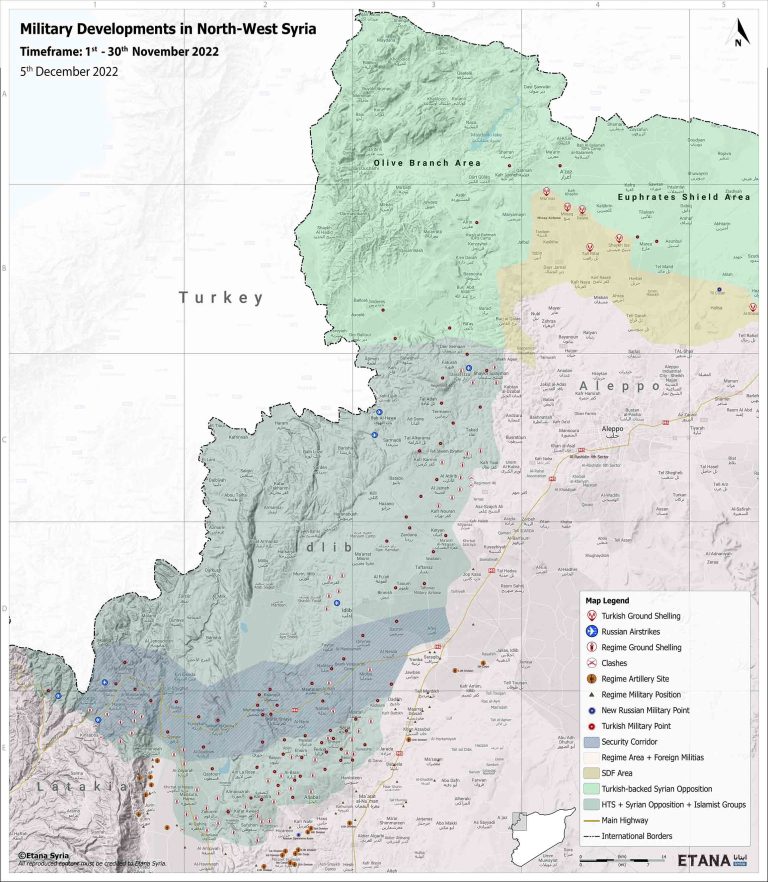 Download the map in high resolution
By agreeing to these Terms, you agree to receive email from us. The aim of our newsletter service is to keep our visitors updated with ETANA's latest content as it releases. The subscription to our newsletter service is not mandatory and can be cancelled anytime.

1. Frequency
Newsletter subscribers will receive a maximum of two emails each month.

2. Limited Liability
We reserve the sole right to either modify or discontinue the newsletter at any time and with or without notice. We will not be liable to you or any third party should we exercise such right. Any new features that augment or enhance the then-current services on this site shall also be subject to these Terms of Use.

We reserve the sole right to unsubscribe users / visitors from or newsletter service, without notice. This action will be taken if we discover a subscriber to have registered under a false email address.

3. Double opt-in
We require all subscribers to confirm their email address upon registration. You will therefor receive a message with a link you will need to use in order to confirm your email address and newsletter subscription.

4. Privacy policy
ETANA will not reproduce, sell, or publish your personal date to any third party. You' may change your subscription settings, or delete it altogether, at any time.


I agree with the
Terms & Conditions