In early April 2023 Lebanese army units and security agencies launched a two-month campaign to forcibly deport Syrian refugees across the border into Syria. Using a combination of field monitoring and interviews, ETANA documented the deportations of up to 500 refugees from areas across Lebanon. This latest campaign reveals several new concerning precedents, including the Lebanese army's newly dominant role in deporting refugees and the targeting of whole families rather than mostly single men. A census being prepared by Lebanon's Interior Ministry meanwhile raises the likelihood of the continued (and possibly expanded) use of deportations and reflects the broader "Syrian-ization" of Lebanon's security apparatus. As part of this, local-level actors affiliated with Hezbollah and the regime inside Lebanon have been given ample space to shape the country's refugee policy from the bottom-up.
Summary: Key Findings
Nationwide Campaign: ETANA documented the deportations of up to 500 refugees from 25 locations within five Lebanese governorates. This data is designed to be indicative rather than exhaustive: one Lebanese NGO estimated that as many as 1,400 Syrians were deported between April and May.
Dominant Role of Lebanese Army: General Security was previously the leading security agency involved in deportations, but in this latest campaign the Lebanese Armed Forces and Military Intelligence were by far the main actors. The army's involvement has led to expedited deportations, often absent of due process, rights guarantees or possible interventions by NGOs, lawyers or the UNHCR.
Syrian Regime Involvement: A fraction of the 496 people deported were actually apprehended at the border by the Syrian army's 4th Division and, most likely, taken into detention. The vast majority were simply left at the border, where they could easily contact smugglers to secure passage back into Lebanon.
Hardline Policies Enter the Mainstream
In 2015 Lebanese authorities changed residency regulations for Syrian refugees, severely restricting their access to much-needed documentation. From 2015 on, Syrians arriving in Lebanon would have to present a work sponsorship or proof of UNHCR registration. The new policies also restricted Syrians' ability to legally and safely enter Lebanon through official border crossings, pushing many to seek irregular (and expensive) smuggling routes.
Restrictions were further tightened in April 2019 when Lebanon's Higher Defense Council (HDC) began to more strictly carry out existing laws by enforcing border controls and targeting smugglers. In practice, these policies meant that Syrian refugees arriving after the HDC's decision were in Lebanon illegally and could be deported with little to no due process.
Forcible deportations are not new in Lebanon but since the HDC's 2019 decision authorities have increasingly emphasised the need to deport Syrians—whether voluntarily or otherwise. Up to 7,000 Syrians were deported between April 2019 and the end of 2020 as a result of the HDC's decision, according to rights groups. Deportations during this period were often overseen by General Security, Lebanon's intelligence agency responsible for national security, public order and borders—also known for its close ties to Hezbollah.
At the beginning of April 2023, however, refugees and human rights groups began reporting an increase in raids and house-to-house searches targeting the residences of Syrian refugees in Lebanon. It soon became clear that this was part of a concerted campaign led by the Lebanese Armed Forces (LAF) and Military Intelligence, one that that ultimately resulted in the forcible deportation of hundreds—and possibly thousands—of Syrians, as well as a spike in arbitrary arrests, destruction of housing and camps, beatings, and other forms of intimidation.
Progressively more restrictive regulations over the years have effectively divided Syrian refugees into three categories. These are defined by the time and nature of their arrival after 2011, their access to UNHCR registration and residency documentation, and their vulnerabilities in relation to Lebanese security: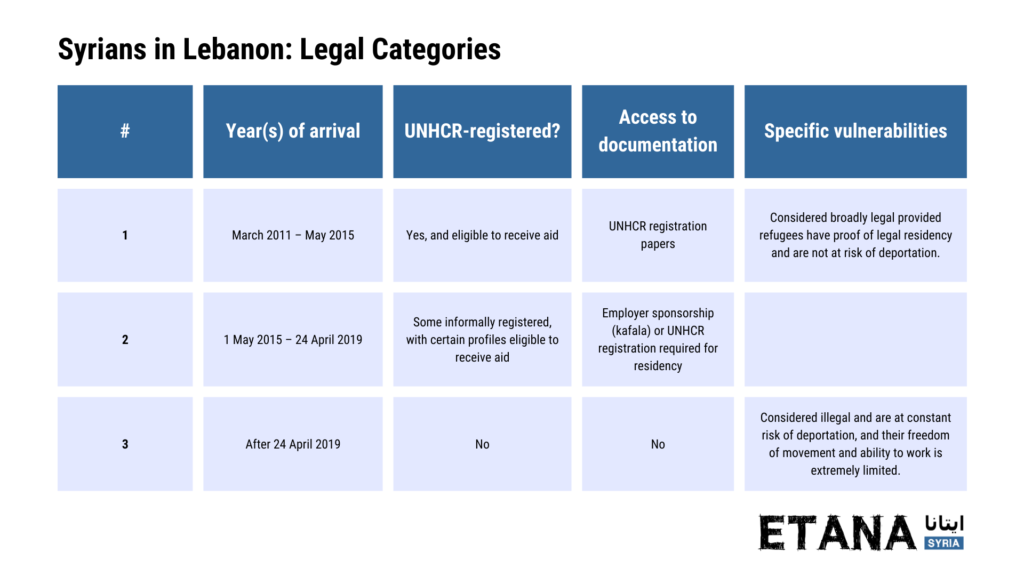 An estimated 85% of all Syrians in Lebanon lack legal residency, meaning that refugees in all three categories are at risk of deportation.
Documenting Arrests & Deportations
In total, ETANA's research team documented the cases of 496 refugees arrested and then deported from 25 locations within five Lebanese governorates. The resulting deportations were rapid, with little to no due process or the involvement of lawyers or UNHCR. After their arrest, refugees were usually transferred to a military base close to the location of arrest and then deported (usually within 24 hours).
Although the largest percentage of deportation cases involved refugees who arrived irregularly in the country after 24th April 2019, violations against the two other legal categories of Syrians were also documented. Our documentation found that these refugees had either proof of UNHCR registration, employment sponsorship or valid residency papers—putting into question Lebanese authorities' deportations on the grounds of combatting irregular entry.
Several Lebanese military units and security agencies participated in the deportation campaign between April and May, including: LAF's 1st Border Regiment, 3rd Border Regiment, Intervention Regiments, Military Intelligence, General Security and State Security. Notably, Hezbollah is known to have longstanding influence within Lebanese Military Intelligence, General Security and State Security.
Superficially, deportations appear to be random: ETANA monitoring found that only five raids (25% of the total 25 documented in this study) were explicitly targeted. However, there is more security preparation and intelligence-gathering involved behind the scenes, indicating that the remaining raids cannot be described as truly "random." Prior to a deportation, Lebanese Military Intelligence visits a municipality or mayoral office and requests information about the presence of Syrians in that specific town or region. In addition to information obtained from Lebanese State Security—the primary security actor gathering intelligence on Syrians inside the country—Lebanese Military Intelligence will then often move with a force from the Lebanese army to carry out a deportation.
Some 3,545 refugees were subjected to physical violations such as confiscations of property, destruction of housing or camp settlements, and physical assaults by Lebanese authorities. Property confiscations were also reported in several parts of the country; in other cases, raids on refugee camps either saw groups of tents destroyed or camps demolished and cleared altogether. A militia linked to the Lebanese Forces partially demolished a camp in Baalbek-Hermel Governorate, displacing four families to an unknown location.
During the course of deportations, the LAF's 1st and 3rd Border Regiments sometimes handed over deportees directly to the Syrian army's 4th Division or regime Military Intelligence in border areas. One refugee who was arrested in late April claimed that he was deported and handed over to the 4th Division, whose troops separated and took into custody those wanted by Syria's security apparatus. 
The rest were left to themselves, with many subsequently returning to Lebanon through local smuggling networks. According to the testimonies of deportees who re-entered Lebanon in this way, smugglers charged between $150-200 per person for the return of refugees not wanted by security agencies in Syria but charged between $5,000-6,000 for the return of wanted refugees (including military defectors, ex-combatants and anyone else accused of real or imputed opposition activities). Of the 496 refugees deported into Syria, 263 were ultimately able to re-enter Lebanon through smuggling routes.
Geographies of anti-refugee repression
Deportations revealed crucial insights into Lebanon's political geography and politicized local governance—the guiding rationale for where and why deportations took place, rather than along sectarian lines.
Lebanese authorities' recent campaign targeted larger camps in the western Beqaa as well as smaller camps and communities in the south—some barely a kilometer from the UNIFIL-patrolled Blue Line separating southern Lebanon and northern Israel. Many of the larger camps targeted fell in areas where Sunni parties, including the Future Movement, have most influence; some of the other smaller camps fall in Hezbollah-controlled areas. Deportations either took place in municipalities led by "pro-Syria" loyalists or those with broadly "pro-refugee" or "opposition" politics, with army and security units conducting violations against refugee communities based on local-level political concerns and objectives. Arrest and deportation operations therefore traversed radically different sectarian geographies and zones of political control and influence.
Although possibly intended to create push factors for refugees, these policies also indicate Hezbollah's security fears that refugee communities could be utilized in a future conflict in Lebanon. Deportations from areas nominally controlled by Sunni political forces—historically more tolerant towards refugees but not impervious to curfews, raids and other anti-Syrian violations over the years—also demonstrate Hezbollah's reach beyond its traditional geographic spheres of influence: in this case, projected through its networks in Lebanon's army and security agencies.
This localisation of decision-making and mobilisation by the different segments of the Lebanese security apparatus is arguably the most dangerous development in terms of Lebanon's political culture and anti-refugee policies—and for some, a reminder of the civil war years in Lebanon. Since 2019, governors have been given increased responsibilities related to administering refugee camps and providing permissions to NGOs working with refugee communities. This trend escalated after the beginning of the Covid-19 pandemic. Nowadays, majors of towns and cities may play a major role in directing localized repression through malicious complaints and their affiliations with political parties (and their militia wings) that are involved in inciting and directing detention campaigns and deportations.
Census
A high-level inter-ministerial meeting in late April held by Lebanon's caretaker prime minister, Najib Mikati, defended the deportations and presented several potential policies for the coming period. Lebanese officials announced their interest in further coordination with the regime, handing over Syrian detainees in Lebanese prisons to the regime, limiting the job sectors in which Syrians can legally work; and conducting a nationwide census on Syrians in all areas of Lebanon. In early May, the minister of interior then wrote to governors, municipalities and mayors explaining that the census should "enumerate and register [all] displaced Syrians" and requested "all mayors not to organize any transaction or statement for any displaced Syrian before… verifying that he is registered with the municipality and is in possession of legal residency in Lebanon."
Consequently, the census now being arranged by Lebanon's Interior Ministry will effectively normalize the existing system by threading intelligence-gathering into refugee policymaking in Lebanon, rendering anti-refugee repression more targeted and individualized, and less random or group-based, in the process. It is no coincidence that the original demand for census surveys on the numbers and origins of Syrians in Lebanon reportedly came from the Syrian regime, not the Lebanese government. 
This points to a convergence of interests between the regime and sections of the Lebanese security apparatus and could pose increased risks for refugees forcibly returned in the future. Human rights defenders and researchers have already documented how Lebanese Military Intelligence has prosecuted Syrians in Lebanon for alleged crimes committed in Syria—such as ownership of an AK-47, which can turn into an imputed accusation of anti-regime military activity and a counter-terrorism conviction in Lebanon's military courts system. Individuals wanted in Syria may also be targeted in Lebanon, and possibly detained there or deported to Syria. But security coordination is increasingly threaded into all layers of Lebanese society, from municipalities in sensitive areas with larger concentrations of refugees to local-level militia actors. Informants and camp shawawish (elders/community figures) maintain regular flows of information to Lebanese or Syrian security agencies (or both) on who is where, their family affiliations and political profiles.
Conclusion
For years, Lebanon has been gradually moving towards forcible deportations of large groups of Syrian refugees. This year's concerted deportation campaign between April and May gives some indication as to what that might ultimately look like, including the actors, tactics and targets involved. Western states must begin exploring ways to address the critical policy vacuum around Syrian refugees in Lebanon: the refugee community faces systemic rights violations; meanwhile, Lebanon's unique political malaise has created an untenable status quo in which local-level actors affiliated with Hezbollah and/or the regime are able to shape policy from the ground up (rather than state institutions shaping policy from the top down). The end-game of that policy is ultimately return, and there is growing consensus in Lebanon that large-scale, forcible returns are the most efficient way for refugee returns to take place in the future. Developing security coordination between the Lebanese and Syrian security apparatuses should prompt careful thinking and conflict-sensitive programming in western capitals regarding the role and affiliations of Lebanese military units and security agencies, ensuring that western partnerships do not ignore and/or inadvertently facilitate rights abuses.