This reporting period covers the month of June.
Clandestine ISIS activity has quieted somewhat in recent weeks, with attacks against both the Syrian Democratic Forces (SDF) and regime troops declining across the north-east. The true source of instability in the region continues to be its spiralling economic woes, which is driving scores of young Syrians to attempt risky border crossings into territories held by the Turkish-backed Syrian National Army (SNA). Ongoing economic hardships and public anger with Self Administration policies have fueled sporadic protests in multiple towns and cities in the past few weeks, with communities demanding economic and political reforms.
Attached Map: Military Situation in North-East Syria
(For a high-resolution version of this map, please use the form at the bottom of the page)
ISIS Activity
ISIS attacks targeting the Syrian Democratic Forces (SDF) have declined slightly across north-east Syria in comparison with the highs of previous months, with five armed attacks and one IED blast recorded across Deir Ezzor, Hasakah and Raqqa provinces. At least 10 members of the SDF were killed in these attacks, and two others wounded. The total numbers of ISIS attacks against regime forces have also decreased in recent weeks.
Iran's Islamic Revolutionary Guard Corps (IRGC) and Iranian-backed militias continue to be a growing target for ISIS attacks. In one attack on 12 June, five members of the IRGC were killed and two others were wounded in an attack carried out by ISIS in Al Mayadin. Meanwhile, unknown individuals, believed to have ties to ISIS cells, have repeatedly distributed leaflets through areas east of Deir Ezzor, threatening local women for not strictly adhering to ISIS' prescribed dress code.
Russian & Pro-Regime Activity
The private military contracting group's future in Syria remains deeply uncertain, following an aborted rebellion against the Kremlin in late June. However, one significant development within Syria was the transfer of Wagner personnel and officers from the Maadan base, east of Raqqa, to the Hmeimim base in Latakia.
Elsewhere, Russian forces continued weekly joint military patrols with the Turkish army, conducting a number of tours through the northern countryside of Hasakah. The Russians and their Turkish counterparts also conducted a number of joint patrols in the eastern countryside of Kobani.
The IRGC and allied militias have significantly bolstered their positions around Al Mayadin and the surrounding countryside in recent weeks. The IRGC also brought in new military reinforcements to their areas of influence in Deir Ezzor. The group also withdrew some forces from near the Euphrates River, east of Deir Ezzor, redeploying them towards the Badia. Several IRGC-linked Iranian militias in Deir Ezzor extended recruitment offers to youth and adults in the city, aged between 15 and 45 years, to join their ranks. The IRGC itself also began a recruitment campaign targeting women for non-combatant roles, including teaching and child supervision.
SDF Activity
Violent confrontations ensued between smugglers and SDF-affiliated customs patrols in the Manbij countryside. The SDF conducted a routine patrol in a-Shuhail and successfully intercepted and confiscated two vehicles carrying a substantial amount of fuel and food items intended for smuggling across the Euphrates to areas controlled by the regime. SDF members killed eight civilians and wounded 10 others near Turwaziyeh, as a number of families tried to cross into Turkish-held "Peace Spring" areas. The SDF arrested at least 16 people across north-east Syria last month. Criminal charges included espionage, smuggling, and attempting to cross into Peace Spring areas. The SDF continues to forcibly recruit young men into its ranks in recent weeks, with major forced conscription drives taking place in Hasakah and Manbij.
Political & Humanitarian Developments
Recent days witnessed significant protests in northeastern Syrian cities, as economic malaise has continued to grip the region and residents continue to voice anger against Self Administration policies. North of Raqqa, protesters held a demonstration against corruption within the local council, followed days later by protests in a neighbouring area demanding the council's dissolution, better living conditions and reduced bread prices.
The prolonged closure of the Faysh al-Khabour/Semalka border crossings, connecting Self Administration areas of Syria with the Kurdistan Region of Iraq, came to an end after more than three weeks. The closure has severely and negatively impacted the health, economic and security situation of the region, disrupting essential supplies such as food and construction materials.
International returns of ISIS members and their families have continued in recent weeks. At least 168 Iraqi families, totalling 658 individuals, were released from al-Hol and repatriated. Another 61 Syrian families linked to ISIS were cleared to leave al-Hol for Manbij. The SDF also arrested three people during their raid on the fifth section of al-Hol camp.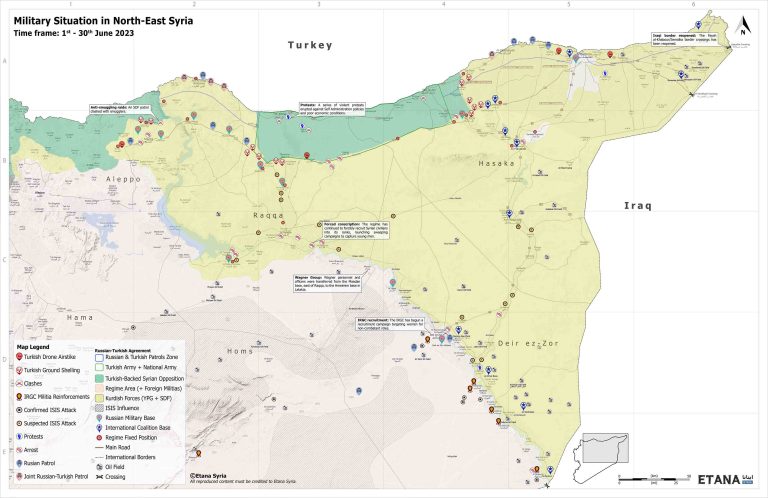 Download the map in high resolution
By agreeing to these Terms, you agree to receive email from us. The aim of our newsletter service is to keep our visitors updated with ETANA's latest content as it releases. The subscription to our newsletter service is not mandatory and can be cancelled anytime.

1. Frequency
Newsletter subscribers will receive a maximum of two emails each month.

2. Limited Liability
We reserve the sole right to either modify or discontinue the newsletter at any time and with or without notice. We will not be liable to you or any third party should we exercise such right. Any new features that augment or enhance the then-current services on this site shall also be subject to these Terms of Use.

We reserve the sole right to unsubscribe users / visitors from or newsletter service, without notice. This action will be taken if we discover a subscriber to have registered under a false email address.

3. Double opt-in
We require all subscribers to confirm their email address upon registration. You will therefor receive a message with a link you will need to use in order to confirm your email address and newsletter subscription.

4. Privacy policy
ETANA will not reproduce, sell, or publish your personal date to any third party. You' may change your subscription settings, or delete it altogether, at any time.


I agree with the
Terms & Conditions