This reporting period covers the month of June.
Since the beginning of May, Russian airstrikes over north-west Syria have dramatically intensified and led to the deadliest attack on civilians in the region in over a year. Russian jets bombarded dozens of towns and villages across Idlib, Aleppo and Latakia provinces while regime and allied militia forces simultaneously stepped-up shelling against both military targets and civilian areas. The most devastating attack was a Russian air raid on a popular fruit and vegetable market in Jisr al-Shughur, which claimed at least nine lives and injured dozens more. While this lurch towards greater confrontation and targeting of civilians may represent an ominous harbinger of what is to come in the months ahead, no large-scale regime ground offensive is expected in the near term.
Attached Map: Military Situation in North-West Syria – June 2023
(For a high-resolution version of this map, please use the form at the bottom of the page)
Russian & Regime Violations
Last month witnessed the first major escalation of Russian airstrikes on opposition-held areas of the north-west since early 2022, when Russia first launched its invasion of Ukraine. A series of devastating airstrikes that targeted dozens of primarily civilian sites accelerated over the course of June, with strikes recorded in the western and southern Idlib countryside, the Wadi Khaled IDP camp as well as several villages in the north of Latakia province. At least 16 civilians were killed in these air raids, and dozens of others severely injured. In one particularly bloody attack on 25 June, Russian forces targeted a popular fruit and vegetable market in Jisr al-Shughur during the busy mid-morning shopping period, killing nine civilians and injuring more than 61 others.
Coinciding with Russia's escalatory behavior, regime forces and affiliated militias have increased the frequency of attacks across the north-west in recent weeks: artillery strikes were recorded in more than three dozen towns across Idlib, Latakia and Aleppo provinces. In total, these attacks resulted in at least five civilian deaths and dozens of additional injuries, among them numerous children.
In addition to regularly shelling opposition areas, regime forces have continued to attempt sporadic advances across frontlines with opposition groups. The regime has also undertaken a number of recent troop deployments in northern Aleppo province. The mobilizations are meant to demonstrate the regime's commitment to regional agreements with Turkish and Russian authorities, such as the Astana process.
Radicals Violations
Radical groups linked to the HTS-affiliated Fateh al-Mabin operations room continued to sporadically clash with regime forces along frontlines in southern Idlib and northern Latakia. In addition to shelling regime positions near Saraqib and western Aleppo, Fateh al-Mabin fighters claimed sniper hits against regime soldiers in southern Idlib and the northern Latakia front.
Turkish Violations
Turkish forces have continued to periodically target Syrian Democratic Forces (SDF) units and carry out assassinations against leaders of the Kurdish-led group. Turkish drones killed one ranking SDF commander west of Manbij in early June, while another drone strike targeted a Russian military vehicle in the northern Aleppo countryside. At least one Russian soldier was killed in the attack, while three others sustained unknown injuries.
Several regime military sites near Tal Rifaat and northern Aleppo were also subject to Turkish drone strikes in attacks that killed one soldier and injured three others.
SDF Violations
Using rocket-propelled grenades, the SDF targeted an IDP camp in the northern Aleppo countryside near the city of Afrin. Initial casualty counts recorded four injuries among civilians at the camp.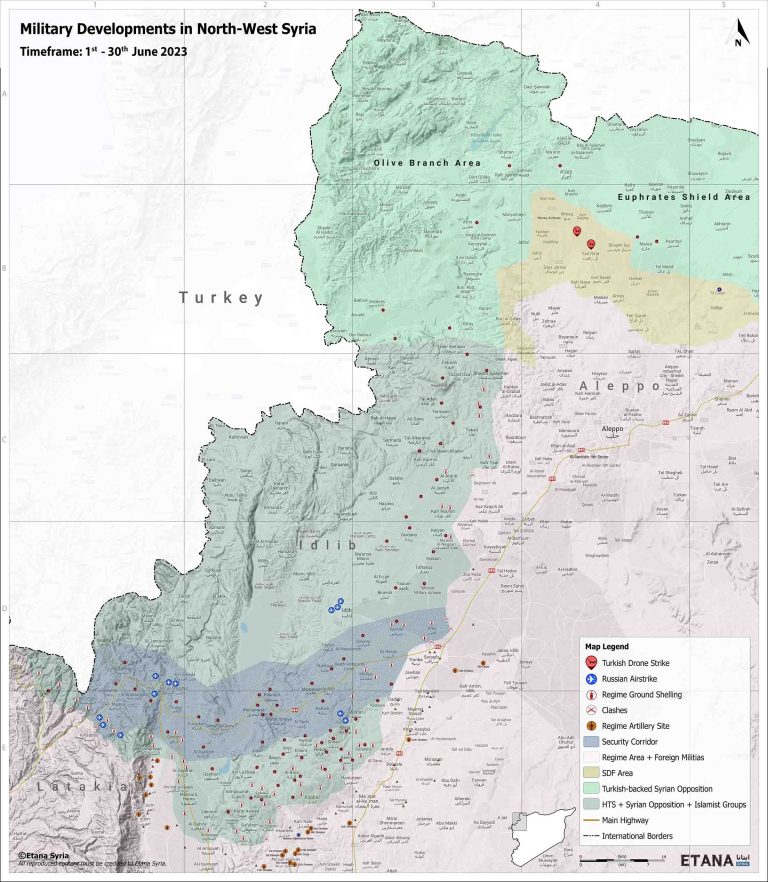 Download the map in high resolution
By agreeing to these Terms, you agree to receive email from us. The aim of our newsletter service is to keep our visitors updated with ETANA's latest content as it releases. The subscription to our newsletter service is not mandatory and can be cancelled anytime.

1. Frequency
Newsletter subscribers will receive a maximum of two emails each month.

2. Limited Liability
We reserve the sole right to either modify or discontinue the newsletter at any time and with or without notice. We will not be liable to you or any third party should we exercise such right. Any new features that augment or enhance the then-current services on this site shall also be subject to these Terms of Use.

We reserve the sole right to unsubscribe users / visitors from or newsletter service, without notice. This action will be taken if we discover a subscriber to have registered under a false email address.

3. Double opt-in
We require all subscribers to confirm their email address upon registration. You will therefor receive a message with a link you will need to use in order to confirm your email address and newsletter subscription.

4. Privacy policy
ETANA will not reproduce, sell, or publish your personal date to any third party. You' may change your subscription settings, or delete it altogether, at any time.


I agree with the
Terms & Conditions